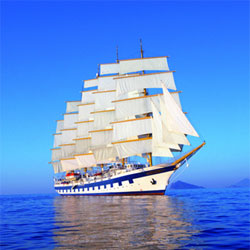 Royal Clipper
Five-Masted Sailing Ship
The Royal Clipper has the proud distinction of being the largest and only five-masted full-rigged sailing ship built since her predecessor was launched at the beginning of the last century. With her complement of 42 sails, Royal Clipper is a splendid sight to behold.
The Royal Clipper boasts state-of-the-art navigation systems and every comfort and luxury one could wish for. For connoisseurs of sail cruising, the 439 foot Royal Clipper offers the ultimate sea-going experience, balancing the grandeur, adventure and tradition of sailing with the superb service, amenities and accommodations of the finest modern yacht. Royal Clipper carries just 227 guests in luxurious style.
Find your secret hideaway on one of the hidden balconies on either side of the bow. Or climb the mast (with safety harness provided) to one of the passenger lookout crows-nests, thoughtfully furnished with a comfortable settee, where you'll have the grandest view of all.
Royal Clipper's interior spaces are just as dazzling. They include a three-deck atrium that funnels sunlight into the elegantly appointed, three-level dining room featuring open-seating dining, deliciously prepared cuisine and a no-tie dress code.
A convenient marina platform lowers from the stern for watersports. And the ultimate unique Royal Clipper experience, the one-of-a-kind Captain Nemo Lounge, is the site of the spa and health club - with underwater glass portholes!
Brand g Vacations is offering a Western Mediterranean cruise unlike any you'll find on another cruise ship. They have chartered the Royal Clipper, the largest and only five-masted, full-rigged sailing ship. With a complement of 42 sails, the Royal Clipper is a splendid sight to behold. Experience the informal elegance, culinary delights, and gracious service in the intimacy of 227 gay and lesbian friends.
This cruise departs from Cannes, a perfect vacation destination due to its ideal weather conditions and glamorous harbor. Some of the most notable highlights include: beautiful Lerici, the ancient Etruscan remains at Portoferraio, the beaches of Corsica and the super-yachts of glamorous Monaco.
Laugh. Dance. Smile. Relax on this unforgettable adventure of the senses.
9-Night Royal Clipper Mediterranean Cruise
Two nights in Cannes followed by a 7-night cruise on the five-masted Royal Clipper, calling on Lerici and Portoferraio, Italy; Corsica, Sardinia, Ajaccio, and Monte Carlo.
Date (2020)
Day
Destination
Notes
Sep 26
Sat
1
Cannes, France
Arrive at Nice airport and transfer to your hotel in Cannes. The balance of the day is free time to start exploring this beautiful coastal city.
Sep 27
Sun
2
Cannes, France
This morning's included sightseeing reveals why Cannes is considered one of France's most attractive cities.
Sep 28
Mon
3
Cannes, France
Glittering Cannes is the archetypal Mediterranean resort city, discovered by wealthy English nobles who came to the sunny south of France to escape their drafty old castles during the dreary British winters. Cannes has attracted notables and the notorious ever since. Every year, the stars flock to celebrate the Cannes Film Festival at the colossal Palais des Festivals.
Sep 29
Tue
4
Lerici, Italy
It was in the Villa Magni near Lerici that Percy Bysshe Shelley spent his last happy days before sailing his small boat on its stormy fatal voyage on July 8, 1822. Lord Byron, another Lerici resident, once swam across the Bay of Portovenere to visit Shelley. The small fishing villages of San Terenzo, Tellaro and Fiascherino and Montemarcello are similar to the more famous Cinque Terre.
Sep 30
Wed
5
Portoferraio, Italy
Napoleon, the exiled Emperor of France had a villa in Portoferraio. Enjoy a local vineyard tour and discover the remains of an ancient Etruscan civilization.
Oct 1
Thu
6
Corsica
Palombaggia is the most famous beach in Corsica, and has been voted one of the Top 10 best beaches in Europe. Backed by mountains and pines, this is a beautiful stretch of golden sand and crystal clear blue water. You can try out windsurfing, jet-ski, kayaks and pedal boats, and there are plenty of snack bars nearby. Bonifacio's almost land-locked harbor is one of the most dramatic, protected harbors. It is a bustling port, with excellent seafood restaurants and a modern marina. The ancient citadel town is perched high atop a seemingly impenetrable cliff.
Oct 2
Fri
7
Sardinia
Alghero is the main resort in the northwest of Sardinia, and is one of Sardinia's most beautiful medieval cities. Its historic centre is packed with excellent bars and restaurants, making it a great place to hang out. It is also ideally placed for exploring the beaches of nearby Riviera del Corallo. A form of medieval Catalan is still spoken, even though the Iberians left three centuries ago.
Oct 3
Sat
8
Ajaccio, France
The resort of Porticcio is clean and modern, and there are several beaches in the town, including the Plage de la Viva that offers plenty of activities. If you feel like venturing away, head south towards Filitosa. This prehistoric site is in a lovely countryside setting, and is one of the rare places in the world where prehistoric engraved stones can be seen. Ajaccio is a very stylish city. Napoléon Bonaparte was born here in 1769, and as you would expect, the city has many sites relating to him. Its immediate surroundings are a paradise for hikers, mountain bikers, trekkers and climbers.
Oct 4
Sun
9
Monte-Carlo, Monaco
Monaco is the fabled domain of princes and movie stars. The magnificent Palais du Prince and opulent Casino are reminders of an elegant, pre-war era. With more wealth concentrated in one small area than almost any place on earth, this tiny principality retains its gilt-edged allure.
Oct 5
Mon
10
Cannes, France
Departure day. Transfer to the Nice Airport for your flight home or to your next adventure.
Departure Date
Price From
Sep 26 2020
$4,099

| | | |
| --- | --- | --- |
| Category | Regular Price | Availability |
| Owner's Suites - 320 sq ft - deluxe outside suite, 2 double beds, separate sitting area, minibar, marble bathroom with whirlpool | $7,899 | |
| Deluxe Suite - 255 sq ft - deluxe outside suite with private verandah, twin/double beds, sitting area, minibar, marble bathroom with whirlpool | $6,899 | SOLD OUT |
| Category 1 - 175 sq ft - deluxe deck cabin, doors open onto deck, double beds, minibar, marble bathroom with whirlpool | $5,899 | |
| Categories 2-4 - 148 sq ft - outside cabin, twin/double/triple beds, marble bathroom with shower | $4,599 | |
| Category 5 - 148 sq ft - outside cabin, double bed, marble bathroom with shower | $4,299 | |
| Category 6 - 100 sq ft - inside cabin, double/triple beds, marble bathroom with shower | $4,099 | |

Click or call and mention offer G-1441

(877) 394-8130

Sold Out - This category is no longer available on this date and no further reservations are being taken for this category.

Wait List - This category is no longer available on this date. However you may join a waitlist where you'll be offered this category/price as previous confirmed reservations are cancelled or changed. To guarantee travel on this date, you must reserve an available category AND waitlist your preferred category.

Guarantee - The cruise line will assign the specific stateroom, sometimes as late as the day of sailing. You are not able to select a specific stateroom or location. You are guaranteed a stateroom in the selected category and if all staterooms in the selected category sell out, you will be upgraded to a higher category.
Why book with us? We're a full service travel agency specializing in Gay & Lesbian travel with the added benefits of Virtuoso.
What's Virtuoso?
We have net rates on US and International air carriers that will beat most internet deals. We can also offer additional services & add-on extensions to your vacations with unique hotel amenities, private transfers, air charters, and exclusive access to special venues, people and places.
With our "on-site" network of over 100 local cultural guides and ground operators, we can custom-craft truely unique cultural experiences for you. Our on-sites are frequently able to gain access to closed-to-the-public venues and take you "behind the scenes" for a far richer and fuller travel experience. Let us turn your vacation into an experience - we're specialists in the art of travel.